𝐇𝐲𝐬𝐭𝐞𝐫𝐞𝐜𝐭𝐨𝐦𝐲: 𝐖𝐡𝐚𝐭 𝐲𝐨𝐮 𝐧𝐞𝐞𝐝 𝐭𝐨 𝐤𝐧𝐨𝐰?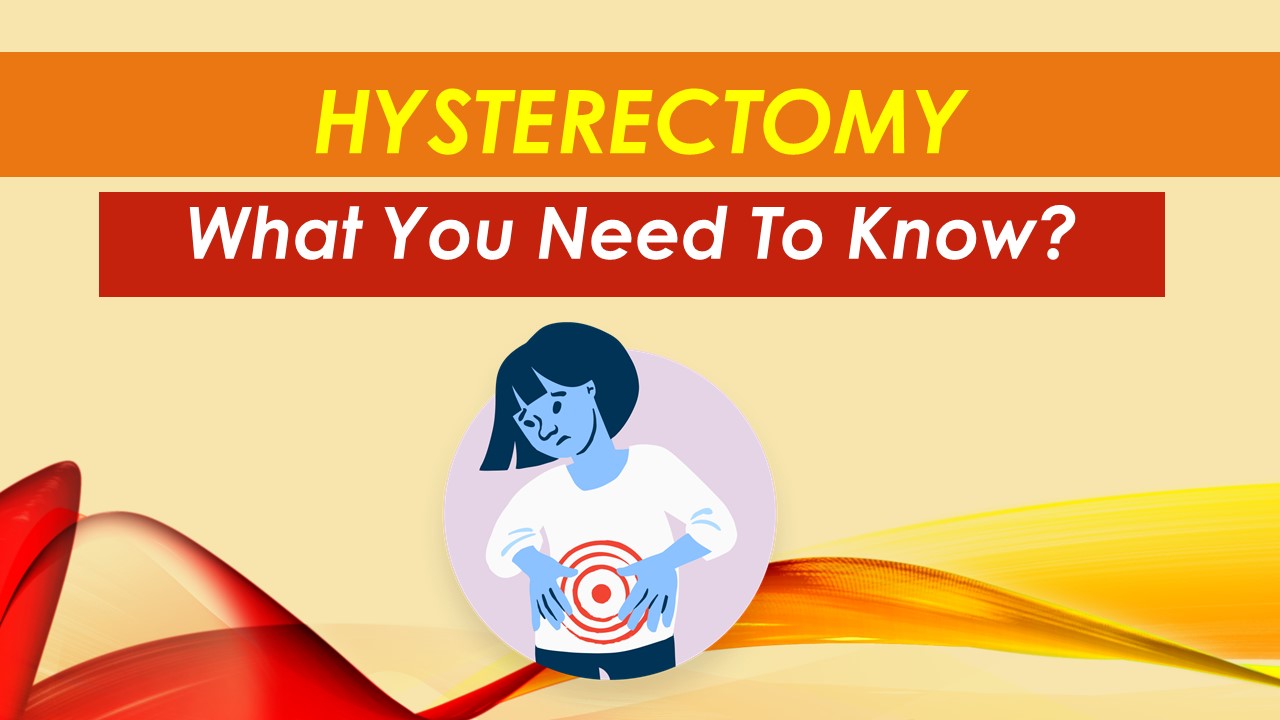 What is hysterectomy?
Hysterectomy is the medical term for removal of the uterus with or without the removal of cervix, fallopian tubes and ovaries.
What are the common indications?
Cancer involving the uterus cervix ovaries or tubes
Symptomatic large fibroids or myomas causing excessive bleeding or pressure symptoms
Prolapse of uterus in perimenopausal or post-menopausal period where uterus may slide down in to the vagina from its actual natural position
Severe pain due to endometriosis
Abnormal uterine bleeding wherein women do not respond to medical management or other therapies.
After hysterectomy is performed, women stop menstruating and also lose their ability to conceive.
How is Hysterectomy done? It can be performed through various routes:
1. Vaginal Hysterectomy
2. Abdominal Hysterectomy 
3. Laparoscopic Hysterectomy or Key Hole Surgery.
4. Non Descent Vaginal Hysterectomy (NDVH)
5. Robotic Hysterectomy
Vaginal, NDVH and Laparoscopic Hysterectomy require minimum stay in hospital and have a faster recovery. Your Gynecologist decides which route is best for you. For vaginal hysterectomy, the vaginal access is determined by assessing 3 key components: angle of the pubic arch, breadth of the vaginal apex, and uterine descent.
Laparoscopic and open hysterectomy are considered in case of large uterine size, prior uterine surgeries, narrow pubic arch, and lack of uterine descent.
What are the different types of hyterectomy?
1. Subtotal Hysterectomy: the upper part of the uterus is removed and the cervix is left behind. The presence of cervix doesn't disturb sexual life post-surgery and this procedure commonly is performed on younger women.
2. Total Hysterectomy: this procedure involves removal of uterus with or without removal of fallopian tubes and ovaries.
3. Radical Hysterectomy: during this procedure, the body of your womb and cervix is removed, along with your fallopian tubes, part of your vagina, ovaries, lymph glands, fatty tissue.
Preparation for Hysterectomy:
1. Blood investigations.
2. Control of blood pressure and sugar if hypertensive or diabetic
3. Dental treatment if lose tooth
4. You will be instructed for fasting before the procedure. It is advised to take shower before reaching hospital and remove all piercings, accessories and makeup for maintaining good personal hygiene and avoiding bacterial infection on contact in clinical settings.
To watch video, click What you need to know about Hysterectomy
Dr. Nupur Gupta ensures that all the procedures are performed with a lot of precision and the post-operative recovery is quick in most women requiring minimum hospital stay or after care at home.