𝐏𝐫𝐞𝐯𝐞𝐧𝐭𝐢𝐧𝐠 𝐓𝐨𝐩 𝐓𝐞𝐧 𝐓𝐡𝐫𝐞𝐚𝐭𝐬 𝐓𝐨 𝐖𝐨𝐦𝐞𝐧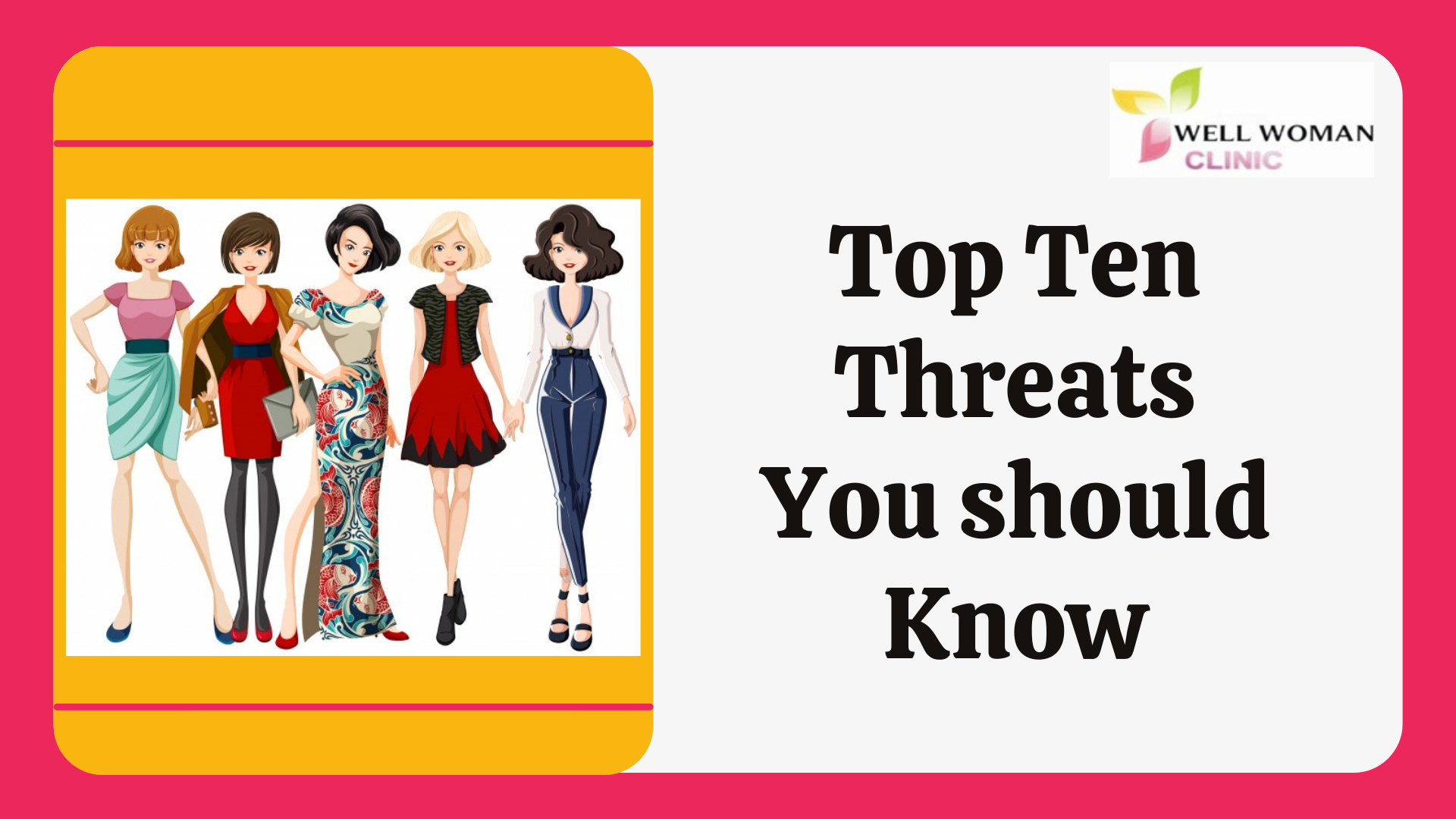 Did you know that these women health threats are preventable? Women are at a greater risk of developing life limiting health issues due to the numerous changes that happen in their body and also the lack of physical exercise.
Given below are few of top threats that a woman has to be aware of:
Heart disease: This is no less common than men. Maintain a healthy weight, eat healthy, exercise regularly, avoid smoking and alcohol and manage stress for prevention.
Cancer: You need to get regular health screening for breast and cervical cancer
Stroke: Control your blood sugar and avoid taking food with high cholesterol
COPD: Avoid smoking and exposure to environmental chemicals
Alzheimer's Disease: Stay healthy but there is no proven way to prevent it
Injuries: The main reason worldwide for injuries is motor vehicular accidents. To prevent, drive safely with seat belt and avoid driving under the influence of alcohol.
Type 2 Diabetes: It can lead to heart disease, blindness, and nerve disease and kidney damage. To prevent, eat healthy, lose extra weight and do regular exercise.
Kidney disease: It is a consequence of high blood pressure and diabetes. Take regular medications, maintain a normal BMI and eat healthy for prevention.
Flu vaccine shot and pneumococcal vaccine: It has to be administered annually.
Sepsis: Please take steps to prevent infection
Adopt a Healthier Lifestyle
While you can't eliminate risk factors such as family history, you can control risk factors for heart disease, stroke and cancer. For example:
Avoid smoking: If you smoke or use other tobacco products, ask your doctor to help you quit. Avoid exposure to secondhand smoke.
Eat a healthy diet: Choose vegetables, fruits, whole grains, high-fiber foods and lean sources of protein, such as fish. Limit foods high in saturated fat, added sugar and sodium.
Maintain a healthy weight: Losing excess pounds — and keeping them off — can lower your risk of heart disease as well as various types of cancer.
Get moving: Exercise can help you control your weight and lower your risk of heart disease and stroke. It might also lower your risk of certain types of cancer. Choose activities you enjoy, from brisk walking to ballroom dancing.
Limit alcohol: If you choose to drink alcohol, do so only in moderation. For women, that means no more than one drink a day. The risk of various types of cancer — including breast and liver — appears to increase with the amount of alcohol you drink and the length of time you've been drinking regularly.
Manage stress: If you feel constantly on edge or under assault, your lifestyle habits might suffer — and so might your immune system. Take steps to reduce stress — or learn to deal with stress in healthy ways.
Now when you are aware about the common threats, follow the above mentioned measures to live and stay healthy and reduce your health risks.